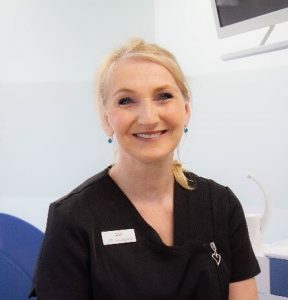 Lisa has been a valuable member of the Fraser Dental team for well over a decade, providing in-depth cleaning treatments and care advice to patients who love to keep their teeth and gums healthy.
Lisa loves seeing the confidence that a thorough cleaning gives her patients, especially those who see her regularly. She says you can see how they actually feel healthier and better about themselves and can see the real benefits to their oral health.
When Lisa first began providing dental hygiene services to Fraser Dental patients there were only bookings for half a day per week. Now demand for dental hygienists has grown so much that bookings fill up six days per week! Lisa believes that people are much better informed about oral hygiene than they used to be. Gone are the days when dentures awaited most people in their golden years as was the case for many of our grandparents. Now Lisa finds that everyone wants to keep their teeth for as long as possible – and they are very aware of the important role that good oral hygiene plays in this. They are also recognising the link between gum disease and overall health.
Outside of work Lisa and her family – which includes three busy teenagers – enjoy a semi-rural lifestyle. Their family recently expanded with the adoption of two pairs of rescue goats, who have unexpectedly multiplied with two sets of triplets!
Lisa feels lucky to have such a great team to work with at Fraser, who are not only fun and supportive but also take such pride in the dental care they provide.