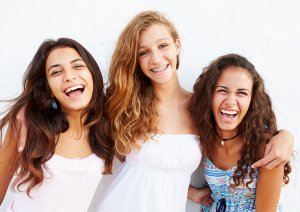 Teenage years can be a time of big changes— and that includes their teeth and gums.
At Fraser Dental, we're excited to offer the best dental services for teens from Year 9 until they turn 18, absolutely free.
We believe we are one of the best kids' dentists in Auckland, and our team of Oral Health Therapists and Dentists have dedicated their time to providing comprehensive and nurturing care for your child's oral health.
School Dental Service
We understand that the quality of dental care is crucial for teenagers, and our school dental service plays a big role in regularly assessing your child's teeth, catching any dental problems, and advising on good teeth-cleaning techniques.
Building Brushing Habits
We believe that your child's teenage years are the perfect time to build healthy brushing habits that will set your child up for a lifetime of clean teeth and great oral hygiene.
With our free basic dental services, your teen's teeth will be clean and healthy, and they'll also learn how to take care of their teeth and gums at home.
By establishing good habits now, we can help ensure that your child will have a great smile for years to come.
Following New Zealand Free Dental Care Scheme
As part of New Zealand's free dental care scheme, your teen is entitled to one free dental examination per year. If you notice a problem between visits, such as a toothache, you can make additional dental appointments free of charge.

Our Free Dental Services Include The Following:
Annual dental check-ups
Teeth cleaning, scaling and polishing
Preventative treatments such as fissure sealants or fluoride treatment
Tooth extractions (non-orthodontic)
Don't worry, if your child needs more extensive dental treatment, we can still take care of all their needs under one roof.
Other Treatments And Easy Payment Plans
Orthodontic treatments such as braces and other alignment treatments are not included in our free dental services for teens, but we can still help you with these.
But for your benefit, we have included easy payment installment methods, whether by insurance or payment plans, so that your kids can have great teeth without disturbing your lifestyle or breaking the bank.
Rest assured that Fraser Dental is registered to provide you with these services, so your child's oral health is in good hands with us.
Let us take care of their smiles while you and your child navigate the joys of their teenage years.
Contact us today to learn more about free kids' dentist services in Auckland for teens.