Accidents can happen anytime, especially when it comes to your teeth.
Unfortunately, you can't wear protective gear all the time when you're out and about doing errands or going out with your friends.
Our goal is to get you fast pain relief as soon as possible.
And no matter the dental problem, we have every treatment in our arsenal for common dental emergencies.
No worries. At Fraser Dental, you're in safe and capable hands!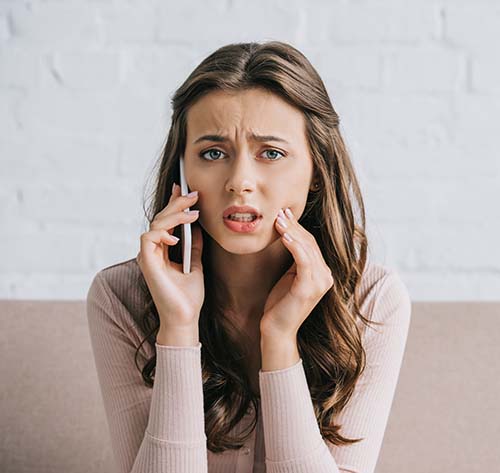 consult your emergency dentist and get a same day appointment in our hobsonville clinic.
At Fraser Dental, our team of nurturing dentists prioritise emergency dental care. Quickly and efficiently saving you from losing a tooth or teeth and managing swellings or abscesses before they spread is on top of our list.
That's why we strive to include slots for emergency dentistry so you can get dental treatment on the same day whenever possible.
We genuinely want you to be relieved from pain and contain dental infections before more symptoms appear, affecting your dental and physical health.
And fret not if there are any financial issues because we offer a wide selection of support options such as Southern Cross Easy Pay, winzs assistance and many payment plans, so all patients have to worry about is their recovery.
Let Fraser Dental be your top-of-mind dentist for emergency dental treatment. We're here for you, so give us a call.
Type Of Urgent Dental Emergencies you should make an appointment for
Are you suffering from severe tooth pain? Wisdom teeth on the point of erupting?
Toothache or an injury to your teeth due to a fall?
Need to see a dentist?
Fraser Dental is standing by to take your call.
We understand how inconvenient (not to mention painful) a dental emergency can be.
That's why we will do everything in our power to give you a pleasant experience during an unpleasant time.
Our dental practice for dental emergencies includes but is not limited to the following:
Toothaches
If you are experiencing severe toothaches, we can assess and diagnose the problem. There should be no reason for you to suffer from severe pain and toothache. Painful toothache is your body's way of indicating a problem and can often be a symptom of underlying decay or infection.
Even if you are experiencing only minor pain, there is a risk that things may progress, and it can become more severe. It's good that your dentist sees this while the symptoms remain minor.
Sore and Swollen Gums
Some infections can cause swellings in the soft tissues around your face or jaw, resulting from an abscess or fluid accumulation in response to the disease. Swellings should be dealt with accordingly since it has the potential to spread. It can lead to difficulty swallowing or breathing and even cause high fevers. If this happens, make sure to see us to seek urgent medical care.
Missing Crowns or Bridge and Fillings
Missing fillings or dislodged crowns and bridges are among the most common dental problems requiring critical care. If this happens, carefully remove it to prevent ingesting or inhaling. Store the crown or bridge in a clean container and bring it to your appointment with us immediately. Teeth that have lost fillings still need to be kept clean by brushing and flossing around them to prevent food and plaque accumulation in the cavity until you seek immediate treatment.
Broken Dental Appliances
Those wearing braces or other dental work that accidentally breaks may be able to seek immediate treatment. Damaged dental appliances can dig into the soft tissues of your mouth and cause pain and discomfort. We can often stabilise these to reduce discomfort until you see your orthodontist for a more defined treatment. This applies to both children and adults.
Suffering from Dental Anxiety?
This could be anything from being nervous about seeing a dentist, fearing expenses piling in by fixing your teeth, or being referred to countless specialists who don't get you.
At Fraser Dental, we ensure you get a relaxing and friendly experience starting from our comforting ambience to sedation methods that will put your mind at ease.
We have comprehensive treatment plans with multiple options for payment that will suit your well-being and lifestyle. Check out our payment plan pages and see which method works for you.
With our highly trained and experienced team, you can be reassured that every family member is taken care of in the best manner possible. Just ask our friendly staff.
need an urgent appointment?

Our Hobsonville Emergency dentists are available even on public holidays. Let us identify the type of oral pain you are in. Stop the risk of permanent damage to your overall oral health and body health as well.