After a lifetime of looking after your natural teeth, sometimes dentures, or false teeth, are the only option you have left. But instead of being the last resort, here at Fraser Dental we take pride in making your dentures the very best new teeth that they can be. Our dentures are not dull, lifeless, uncomfortable or ill-fitting – they are a new set of teeth that reflect who you are and your approach to life. We believe they must be realistic, lifelike, affordable, and just as comfortable and functional as your natural teeth.
Our specialist denture clinician has over 20 years' experience in crafting new teeth, each and every set of dentures we create are tailored to your specific needs. Dentures sit in place based on suction to the gums, so it is essential that they have a comfortable, secure fit. This is where our years of experience, training and access to the latest technology all come into play. You will be excited to present your new smile to the world and delighted with how natural and comfortable they feel.
Dentures are designed to be removed overnight. We will help you to establish a good cleaning regime to keep them hygienic and ensure they last for as long as possible.
Our denture-wearers still require regular dental check-ups, where we check on the condition and fit of your dentures as well as continue to help you to maintain good oral health.
Cost Of Dentures
While a quality set of dentures that look and feel great are an investment in your quality of life, we understand that the cost of a full set of dentures is something that needs to be considered. With many options of false teeth now available, our denture expert will work with you on a solution that best fits your needs, and your budget. Fraser Dental offer a wide range of dental payment plans and options to help you to manage the cost of dentures so you don't have to compromise your lifestyle.
Contact us today to discuss your denture options.
Full Dentures
Full dentures, or false teeth, are a replacement option when all of your teeth are missing. They consist of a full arch of teeth which fits with suction over the gums and jawbone. We use advanced technology and materials to ensure that each set of dentures look as realistic as possible, so it is almost impossible to tell that they are not your natural teeth. And we understand that how your false teeth feel is just as important as how they look, so our denture experts use their years of experience and training to ensure your dentures fit comfortably and function just as well as your natural teeth would.
Traditional dentures, as opposed to implant retained dentures (or "fixed" dentures) are a good option for patients whose gums and jaws are too weak or unhealthy to support dental implants.
The Denture Process
The process of getting a full set of dentures requires several appointments. At your initial consultation we will assess your needs and talk about the options available to you, including timing and costs. The next step is taking detailed measurements and impressions, or moulds, of your teeth. We use these moulds to create your tailor-made dentures in our denture laboratory using the latest materials and technology. Finally, fitting your dentures may require more than one appointment. It's important to get the fit and appearance exactly right for you, so adjustments will be made until you are completely comfortable and happy.
Dentures are designed to be removed overnight, and we will give you full instructions on how to keep them clean and make them last for as long as possible.
Contact us today to discuss full dentures or other denture options with us. Consultation fees apply.
Partial Dentures
Partial dentures are designed to be used to replace missing teeth when you still have some natural teeth remaining. They clip on to your natural teeth with metal clasps. They consist of replacement teeth matched to the colour of your natural teeth, attached to a gum-coloured base. Partial dentures have the benefit of not requiring any modification to your remaining teeth. They are a viable alternative to dental implants as they can be more cost-effective, and patients do not need to undergo the dental surgery that implants require. Fitting partial dentures is straightforward and painless.
As with full dentures, partial dentures are custom-made to suit your teeth and gums by taking detailed measurements and moulds. This ensures they fit perfectly to your mouth, looking as natural as possible and with as much functionality as possible. Several appointments may be necessary to achieve just the right fit, so any irritations can be addressed in the early stages and corrected.
Partial dentures can be easily removed for cleaning and should not be left in overnight.
As with other forms of dentures, good oral hygiene routines are essential and will help to make your partial dentures last for as long as possible – in some cases they can last up to 15 years. Regular dental check-ups are also important to ensure your partial dentures are in good condition and you have no other dental issues developing. And because your mouth changes shape over time, we monitor the fit of your partial denture from year to year and make adjustments if necessary.
Contact us today to discuss your options for partial dentures.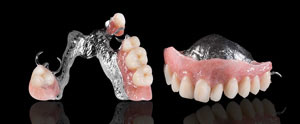 Implant Dentures / Fixed Dentures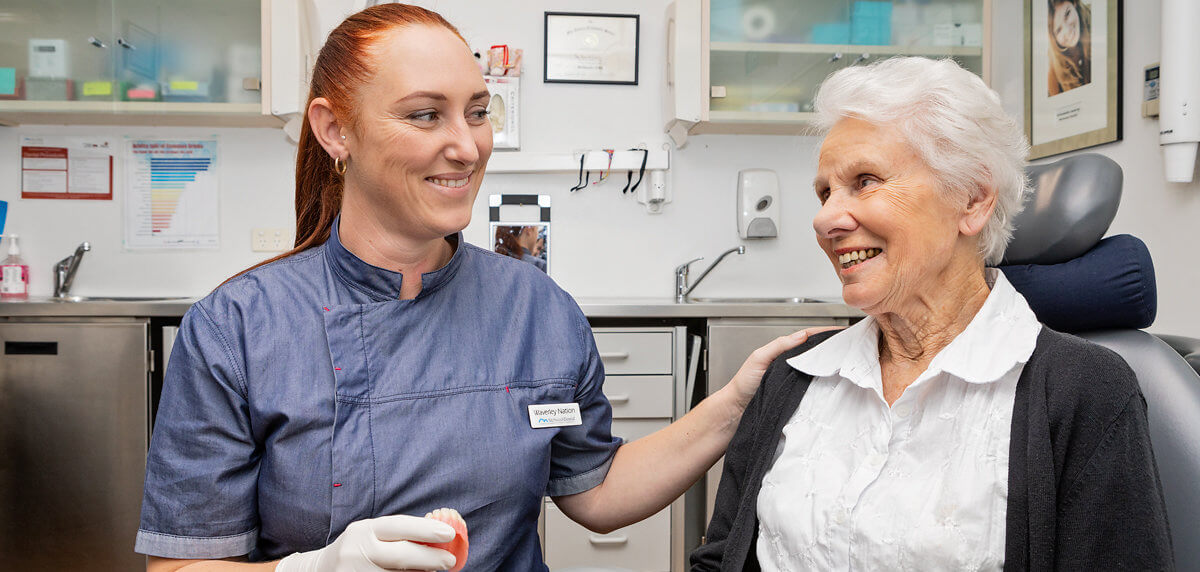 Dental implants are used to replace multiple missing teeth through implants into the jaw with dental bridges and/or dental crowns attached. This same dental implant procedure is used for implant retained dentures, also known as denture implants, fixed dentures or permanent dentures. They are an alternative to wearing traditional dentures which suction on to the gums. are removable.
Because implant dentures, or fixed dentures, are clipped on to the dental implants, they are more comfortable and stable compared to suctioned removable dentures. They can be an excellent option when the jaw line has begun to shrink away, which can cause stability problems with traditional dentures.
Titanium implants are used, which do not decay. The number of implants required differs from person to person, but it is often two to four implants for lower dentures, and at least four for upper dentures.
Key Benefits of Fixed Dentures
Implant retained dentures offer several benefits over traditional removable dentures, including:
Because they are clipped in place, they do not shift around or cause irritation.
You can eat normally and chew most foods without restriction. Traditional dentures can obstruct eating to a certain degree, so you may lose some taste and texture. However, implant retained dentures don't cover the roof of your mouth so eating is not as restricted.
No irritating taste of dental adhesives.
No fear of embarrassment – you can have complete confidence that they won't slip out of place in public – even through coughing, sneezing or laughing.
Implants can reduce or even stop the bone loss that begins to occur once natural teeth are no longer in the jaw. The implants act as replacement natural tooth roots, so the natural process of bone shrinkage is halted.
Maintenance Of Implant Retained Dentures
Implant retained dentures are relatively easy to maintain if you have good oral hygiene habits. If you have good denture cleaning techniques and hygiene appointments every six to 12 months, they should last for many years without requiring replacement, which can also make them a cost-effective option for the long-term.
The dentures should be removed daily for cleaning. Only use an extra-soft brush and denture paste for cleaning the gums and dentures so as to avoid abrasions and irritations.
CONTACT US TO FIND OUT IF DENTURE IMPLANTS ARE RIGHT FOR YOU.