Smilesaver is a new initiative that will help you afford the dental care you need.
In our experience, patients who routinely visit their dentist and hygienist for regular check-ups usually require the least amount of dental treatment. To maintain a healthy dental habit, only two dental visits per year are needed. The first visit is to see the dentist + hygienist together for the annual check-up and clean, and the second six months later is just to see your hygienist. This six-monthly routine keeps your teeth in the best possible oral health, helping to avoid dental pain and unexpected dental bills. However, sometimes there is a dental issue or emergency that couldn't be predicted. In this event, we have Smilesaver.
Smilesaver is a way of making sure there are no unexpected dental bills that break the bank.
Smilesaver is essentially a savings plan. From just $6 per week, you can have all the routine dental care you need, for as long as you need it. Once enrolled in Smilesaver, you can take advantage of all the benefits that membership has to offer including all the services listed in the booklet below.
Apply for Smilesaver today, and together we'll keep you in pristine oral health.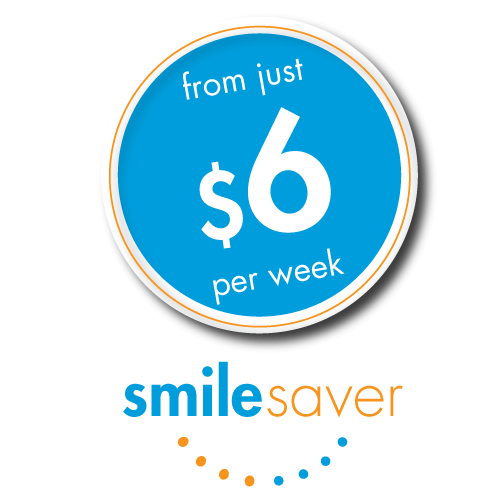 Smilesaver is a savings plan where Fraser Dental Centre holds client funds in its bank accounts on their behalf to be redeemed for goods and services at Fraser Dental Centre.
All payments to Fraser Dental Centre by the client will be allocated to the client's personal patient file.
The funds in the patient file are to be used for the client's dental treatment at Fraser Dental Centre.
Once sufficient funds have been accumulated in the client's patient file, the client can be booked in to have dental treatments performed.
All funds contributed by the client to their Smilesaver remain the property of the client and any credit balance in the client's patient file can be refunded at any time.
Automatic payments and credit card debit arrangements remain in force only at the client's discretion and can be altered or cancelled at any time by the client.
Smilesaver is a savings scheme, and not an insurance product. Goods and services can only be provided to the client once sufficient funds for those goods or services have accumulated in the client's patient file.
Each new client to Smilesaver gets a $50 credit to their patient file, which can be used for any goods and services once it has been matched with at least $50 of contributed funds by the client.
Clients are only entitled to one $50 credit on joining Smilesaver. If the client leaves Smilesaver and then re-joins at a later date, the $50 signup credit is not paid.
New clients to Smilesaver can be booked in for their first Smilesaver appointment approximately six months after they have started making payments.
The oral care product gifts are given to Smilesaver clients at their annual dental check-up appointment which should be on the anniversary of their signup date.
Each annual check-up is due 12 months following the previous one. The Smilesaver payments are calculated so that there are sufficient funds available in the client's patients file at the annual check-up to pay for the appointment.
If a client falls behind on payments for any reason, Fraser Dental Centre will advise on the amount that needs to be paid to 'catch up' so that the annual check-up can be scheduled on time each year.
By joining Smilesaver, the client gives Fraser Dental Centre permission to contact them via email for communication.